Our Clients - Event Venues & Facilities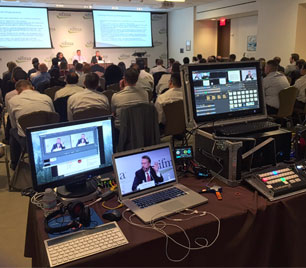 No matter what kind of event you are hosting, you can rely on OVS Media's innovative suite of Stakeholder Broadcasting video services to meet the needs of your clients. We provide you with a complete package of tools and services that will effectively complement your own suite of offerings.
Whether your needs are big or small, we work with you to customize just the right package for you to offer to clients. Your audiences will experience meetings, conferences and events in the highest-quality streaming video complete with live Twitter feeds, closed-captioning, mobile device capability and audience analytics.
OVS Media has worked with a wide range of event venues ranging from corporate conference rooms to high-end destination properties.  In many cases we are brought in by our client to coordinate with the venue, but in many others we are brought in by the venue itself as their webcasting partner. Our experienced OVS Media live webcasting team can coordinate all the logistics of your event with your event staff, from video production to a custom branded web page to live encoding and archiving, to ensure your client's event goes live without a hitch. Our services add capabilities for your event sales staff, provide your venue with additional revenue, and ensure your clients' meetings and events are delivered to their online audiences on time and on budget.
A select list of event venues with whom we have worked include:
NY Marriott Marquis
Cipriani 42nd Street, NY
SIFMA Conference Center, NY
D.C. Renaissance
Ritz Carlton D.C.
Boston Marriott
Denver Marriott
Miami Marriott Biscayne Bay
Kansas City Airport Marriott
Sheraton Desert Oasis Villas, Scottsdale AZ
Jumeirah Beach Hotel, Dubai
Stakeholder Broadcasting Platform Features:
Captioning
Analytics
Video search
Social media integration
Toll-free number support
Multiple languages
Archiving
Benefits:
Extend events to audiences anywhere
Receive real-time analytics data on who's watching and where
Reduce travel costs and work interruptions
Reach more key stakeholders, more often
Want to find out more about Live Webcasting?
Not everyone can afford to come to the conference. We have found it really valuable to webcast live on the Internet because that reaches people at their homes. The webcast allows us to capture those videos and make them available on our archives so people in the room can watch them again and people that missed them the first time can watch them from wherever they are in the world.