Our Clients - Live Government Webcasting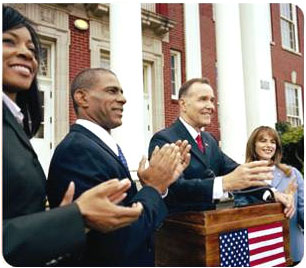 Government Webcasting Services

OVS Media has a long history of webcasting live and on-demand meetings for top-tier national government agencies and departments and has worked with more independent agencies than any other company in the industry. The OVS Media Stakeholder Broadcasting and Live Webcasting platform is considered a model program for many federal agencies that need to facilitate timely communication with their stakeholders in order to demonstrate outstanding transparency – essential to maintaining public trust and understanding.
Government Webcasting Clients
Many legislatures, legislative committees, and executive branch agencies have limited how many webcasts they do and how often they do them. But one-time webcasts are usually costly, take time to implement and offer no economies of scale. OVS Media's Stakeholder Broadcasting platform is the first managed solution to cost-effectively implement open government priorities. Our platform allows government entities to webcast floor debates, committee hearings, agency public meetings and executive addresses live, at any time, while dramatically lowering the cost per live webcast.
OVS Media's federal government webcasting client list includes:
National Archives and Records Administration (NARA)
Food & Drug Administration (FDA)
Center for Disease Control (CDC)
Nuclear Regulatory Commission (NRC)
Election Assistance Commission (EAC)
Postal Regulatory Commission (PRC)
Commodity Futures Trading Commission (CFTC)
U.S. Department of Homeland Security (DHS)
Pipeline and Hazardous Materials Safety Administration (PHMSA)
U.S. Department of Transportation (DOT)
U.S. Department of Housing and Urban Development (HUD)
U.S. Department of Labor (DOL)
Federal Emergency Management Agency (FEMA).
Stakeholder Broadcasting Platform Features:
Live Captioning
Analytics
Video search
Social media integration
Toll-free number support
Multiple languages
Archiving
Government Webcasting Benefits:
Extend events to audiences anywhere
Receive real-time analytics data on who's watching and where
Reduce travel costs and work interruptions
Reach more key stakeholders, more often
Want to find out more about Live Webcasting?
Not everyone can afford to come to the conference. We have found it really valuable to webcast live on the Internet because that reaches people at their homes. The webcast allows us to capture those videos and make them available on our archives so people in the room can watch them again and people that missed them the first time can watch them from wherever they are in the world.